December 6th to 13th
Datta Jayanti, or Dattatreya Jayanthi, celebrates the birth of Adi Guru Dattatreya, the Trimurti Avatar – the united and single incarnation of Brahma, Vishnu and Shiva. Dattatreya was born as the son of Atri Maharshi and Anasuya. Datta Jayanthi is observed on the full moon day in the month of Margashirsh. Dattatreya remained an Avadutha – a sage who remains in pure nature. He was a supreme yogi. Dattatreya narrated the secrets of Vedanta to Lord Subrahmanya and this teaching later came to be known as Avadhuta Gita. Shri Shirdi Sai Baba was considered to be the Incarnation of God Dattatreya. Lord Dattatreya had graced Shri Sai Baba with the qualities of Lord Shiva, Ram, Shri Krishna and Shri Hanuman. To save the human beings, Shri Baba presented his deeksha for the human service.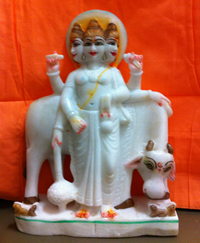 6.00 PM Guru Charitra Parayan
December 6th Chapters 1 to 7
December 8th Chapters 8-11
Decmeber 9th Chapters 12-15
December 10th Chapters 16-17
December 11th Chapters 18-19
December 12th Chapters 20-21
December 13th Chapters 22-23
December 13th
10.00 AM  Dattatreya Swami Puja
10.30 AM Dattatreya Swami Abhishekam
11.00 AM Dattatreya Swami Havan, Arati and Prasadam
7.30 PM Dattatreya Swami Archana & Fala Shruti (Final Day Parayan Conclusion) & Arati
Schedule Changes:
NovEMBER 23rd: Temple will open only in the evening at 6.30 as we have only one priest available.
December 13th: As this day being Poornima Sri Satyanarayana Puja will be performed at 5.30 PM.
January 1st New Year's day: Temple will be open all day.