Ratha Sapthami, January 23rd, Tuesday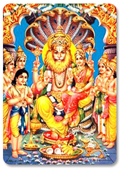 Ratha Sapthami is the day when the sun switches over from the zodiac sign Simha Rasi to Makara Rasi on this " Magha SuddhaSapthami " day.  Astronomically, the event marks a change in the trajectory of the sun's path, which affects the planetary movements. The Sun commences its journey towards the northern hemisphere on this day. In the Vedas Lord Vishnu is also described as being seated in the midst of the disc of the Sun; so much so that over time Vishnu worship merged with Sun worship celebrated on a grand scale on this day.
Prahlada Varada Narasimha Swamy ( Lord Vishnu's  Avatara) along with his Consorts Sri Devi/ Bhudevi are taken on a procession around the temple.  Come and celebrate this auspicious event.
Praying to Surya / Vishnu/ Narashima  on this day will give you peace, removes obstacles, helps you to stay steady on the path of righteousness and keeps our mind steadfast on the goals we want to achieve.  
Evening Program:



Dinner Provided at the temple, your donations for food are welcome.

Please join us to celebrate special Ratha Sapthami celebrations. 
Other Upcoming Events -
January 21st, Sunday – Vasant Panchami
January 30th, Tuesday – Thai Poosam