Sri Dattatreya Swamy Jayanthi - Thurs, Dec 12 th

Dattatreya Jayanti, is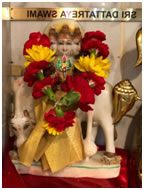 a birthday celebration of Sri Dattatreya (Datta), a combined form of the Hindu divine trinity of Brahma, Vishnu and Shiva. It is celebrated on the full moon day of the Margashirsha (Agrahayana) month according to the Hindu Calendar (December/January) throughout the country.
5.30 PM Sri Dattatreya Swamy Puja & Homam
6.30 PM Dattatreya Swamy and Shirdi Sai Baba Abhishekam
8.00 PM Seja Arati
8.30 PM Theertha Prasadam


Donate with PayPal Giving Fund:


Please use the following link to donate thru PayPal.

https://www.paypal.com/fundraiser/charity/1950659